Following the murder of George Floyd on 25 May 2020, the Black Lives Matter (BLM) movement has grown from a social media post to a global movement of grassroots organisations protesting for change.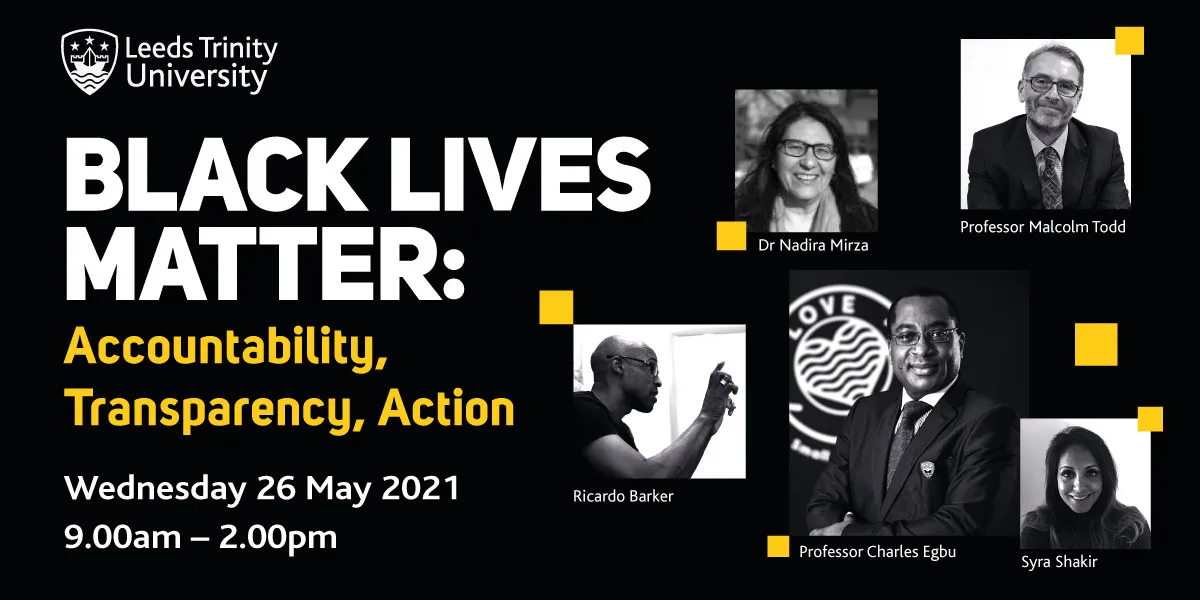 Leeds Trinity University is hosting an online event to mark the anniversary of George Floyd's death, commemorate other Black lives, provide a platform for Black staff, students and alumni to share their lived experiences, and reflect on the resurgence of the BLM movement. The theme for this event will be focused on accountability, transparency and action.
The event will include:
Introduction to the event and Leeds Trinity's Race Equality Charter (REC) working group from co-chairs Professor Malcolm Todd, Deputy Vice-Chancellor and Dr Nadira Mirza
A panel session with Black students and alumni from the University speaking about their lived experiences
A keynote interview from Leeds Trinity's Vice-Chancellor Professor Charles Egbu on race inequality
A practical workshop on institutional racism with Ricardo Barker and Syra Shakir using Ricardo's film Re:Tension and the accompanying educational toolkit
A poem from Leeds Trinity student Macy Iwediebo
When?
Wednesday 26 May 2021, 9.00am – 2.00pm
Where?
This session will be delivered via Microsoft Teams.
Who should attend?
Everyone is welcome to attend.
Cost
This event is free to all attendees
How to book
To book your place, please click here and enter your details as required. Prior to the event date, you will be emailed a link to join the virtual 'meeting'. It may be beneficial to click the link on receipt and follow the instructions to familiarise yourself with the software process and ensure you can access in advance.
Can't make it, but want to follow the action?
Follow @LeedsTrinity on Twitter and join in the conversation using #LTBLM