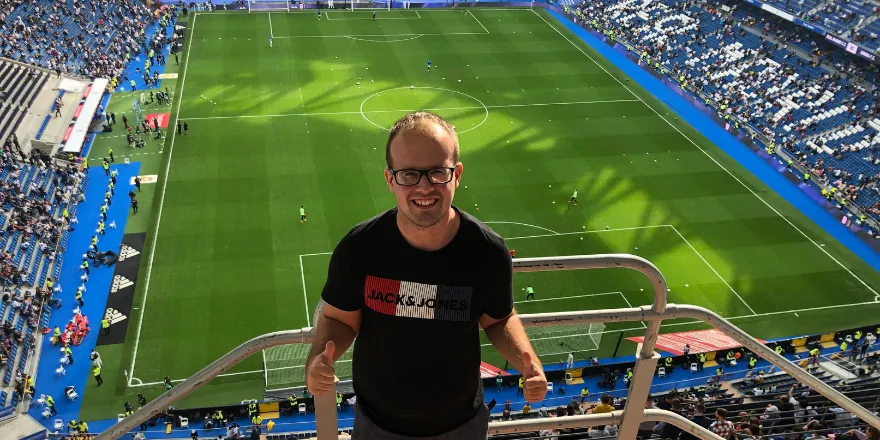 Before I started studying at Leeds Trinity University back in September 2020, living and studying abroad was something I always wanted to do. However, as my first year commenced during the Coronavirus pandemic and other commitments took over in life, my dream of a life abroad seemed out of reach. That was until I had a conversation with Leeds Trinity's Global Mobility Manager Maia Sule which changed everything. I remember Maia telling me how much I would regret it if I did not give it a go, which prompted me to research options for studying abroad before eventually deciding to go ahead with it.
Now I am studying at Universidad CEU San Pablo, Madrid for the 2022/23 academic year I'm happy to say that moving to Spain has turned out to be the best decision of my life. I have developed and grown as a person because of it.
I have taken up a Journalism course which heavily relates to my Sports Journalism degree at Leeds Trinity. While I was looking into studying abroad, choosing to attend a university that offers similar courses and modules to the ones I'd taken up at Leeds Trinity was vital as I wanted to continue to develop my skills in the journalism where I see my future after graduation. Thankfully, not only has this experience allowed me to develop my journalistic skills, but it has also helped me manage a heavy and intense workload on a consistent basis.
Living abroad has also allowed me to develop many practical skills that will be beneficial to me for the rest of my life. When I first moved to Spain, the language barrier was a challenge and made me realise that I had to get to a good enough level of Spanish to make this a valuable experience. Once I learnt and used Spanish to communicate, life in Madrid became so much easier. Even achieving the simple things for the first time such as finding your local supermarket, finding a restaurant you enjoy, going to watch live football, visiting all the main tourist attractions, and going to pick up your mail from a local post office helped boost my confidence. Achieving all these little things whilst abroad has given me confidence to continue to push myself out of my comfort zone.
Not only have I developed my practical skills, but I have also enhanced my personal and communication skills. Studying abroad was very much out of my comfort zone so making it such a great experience for myself is a fantastic feeling. Despite already being a mature student, the last couple of years have taught me that it is never too late to return to studying and change careers.
I would recommend studying abroad to absolutely anyone. It is life-changing and the skills you gain are extremely valuable both personally and professionally. Also, studying abroad through Leeds Trinity was made easier thanks to the support and guidance they have offered along the way, which I am very grateful for.
Samuel Wright is a mature student in the second year of his Sports Journalism BA (Hons) degree. At Leeds Trinity University, we actively encourage students to spend time studying abroad. For more information about our study and work abroad opportunities, visit the website.