This session is designed to introduce attendees to supplying to other businesses, and the public sector.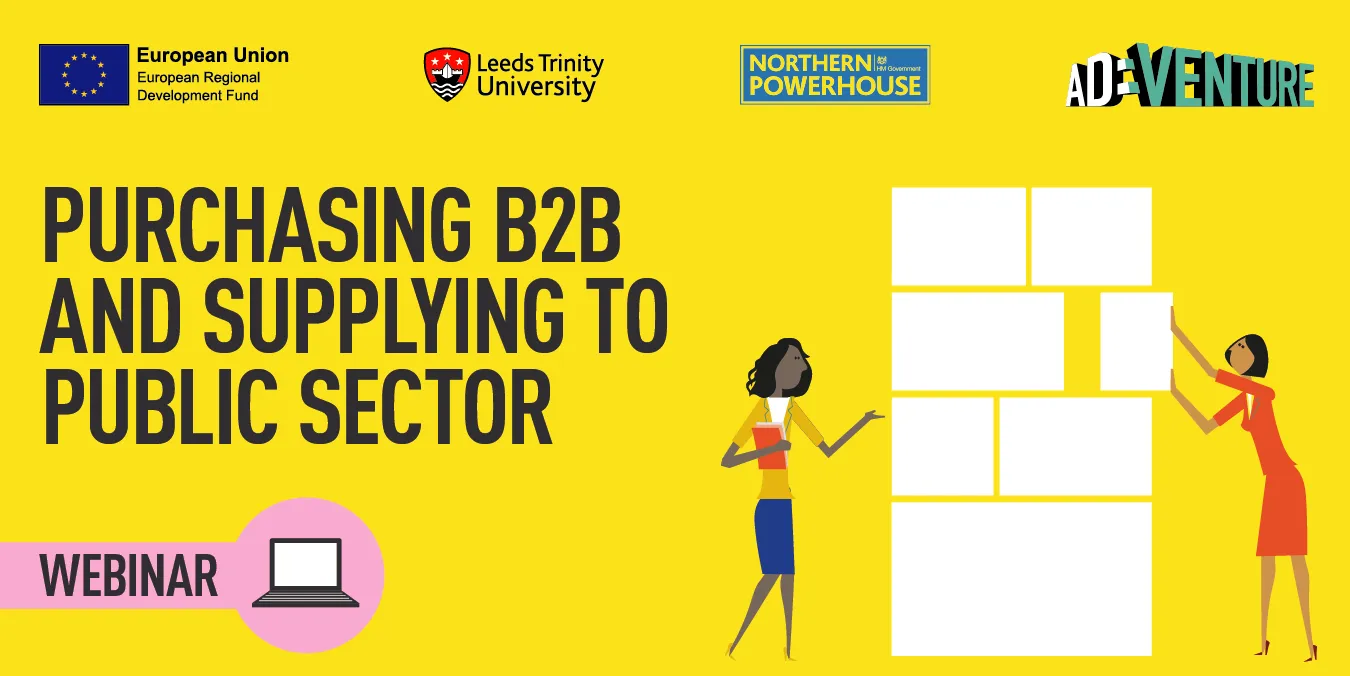 What's happening?
Winning a contract to sell to a large company can be just what you need to grow your business, but understanding how to make the approach, and how to manage your submission can feel like a huge step for small business owner.
However, it is a step worth considering…
With the UK government committed to its target of spending £1 in every £3 with SMEs by 2022, this means there is 33% of government spend worth £15 billion actively seeking SME suppliers.
Many national and global firms are also committed to bringing more SMEs into their supply chains, often looking to improve supply chain opportunities on a localised level, and also enabling them to work with SMEs who can offer added social value to the contracts and supply chains.
Being prepared for these opportunities and knowing how to make the approach will put you in the best position possible to win those contracts.
As well as the clear financial rewards, doing business with a big organisation will bring you credibility as well as the confidence to grow quickly. Once you have sold to one large organisation, it becomes easier to get a foot in the door with the next one!
Aimed at companies that may have been wondering how to break into these markets, we will cover two practical and applicable areas:
Tendering for work. How this functions, what to consider and what to avoid
An overview of the structures and relationships that these organisations typically have, and how to contact the most appropriate individuals with a view to developing a supply relationship.
When?
Thursday 27 May 2021
9.45 - 10.00am Registration
10.00 -11.30am Start
11.30am -12.00 Q&A session and finish
Where?
In compliance with social distancing guidelines, this session will be delivered remotely through a Microsoft Teams meeting.
To register for a place:
Please register for a place if you are a business under three years old with a desire to grow and employ people in the Leeds City Region. Ad:Venture is focused on supporting new and high-growth businesses. If you are eligible, you will be asked to complete a Company Record form before you attend. If you are eligible to attend the session, you will be sent you a link two days before the session to join on the day.
The session start at 9.45 am for registration, you will receive a sign-in sheet via email. Please follow the instructions via the email and sign the document online and click complete.
Further information:
Greg Barnes (event facilitator)
Dr Greg Barnes is a Public Procurement Professional with over 15 years procurement management experience specialising in Public Sector Purchasing, Construction, and Higher Education Management, and is a member of the Chartered Institute of Procurement and Supply (CIPS). His previous work experience has included periods with large public sector organisations project managing complex public procurements over the EU / UK PCR thresholds with a particular emphasis on Construction, Facilities Management, and Professional Services.
Leeds Trinity University is proud to be part of Ad:Venture; a business support programme aimed at helping businesses in the Leeds City Region with real growth potential to achieve their ambitions. We are looking to support businesses that have ambitions to grow and create jobs. The project is supported by the 2014 to 2022 European Regional Development Fund Programme. If you have any questions, or for any further information, please contact Louise Miller, l.miller@leedstrinity.ac.uk, Ad:Venture Project Manager at Leeds Trinity University.