The Research Excellence Framework results (REF 2021), announced on Thursday 12 May, show that Leeds Trinity University produces impactful research across all of its academic disciplines.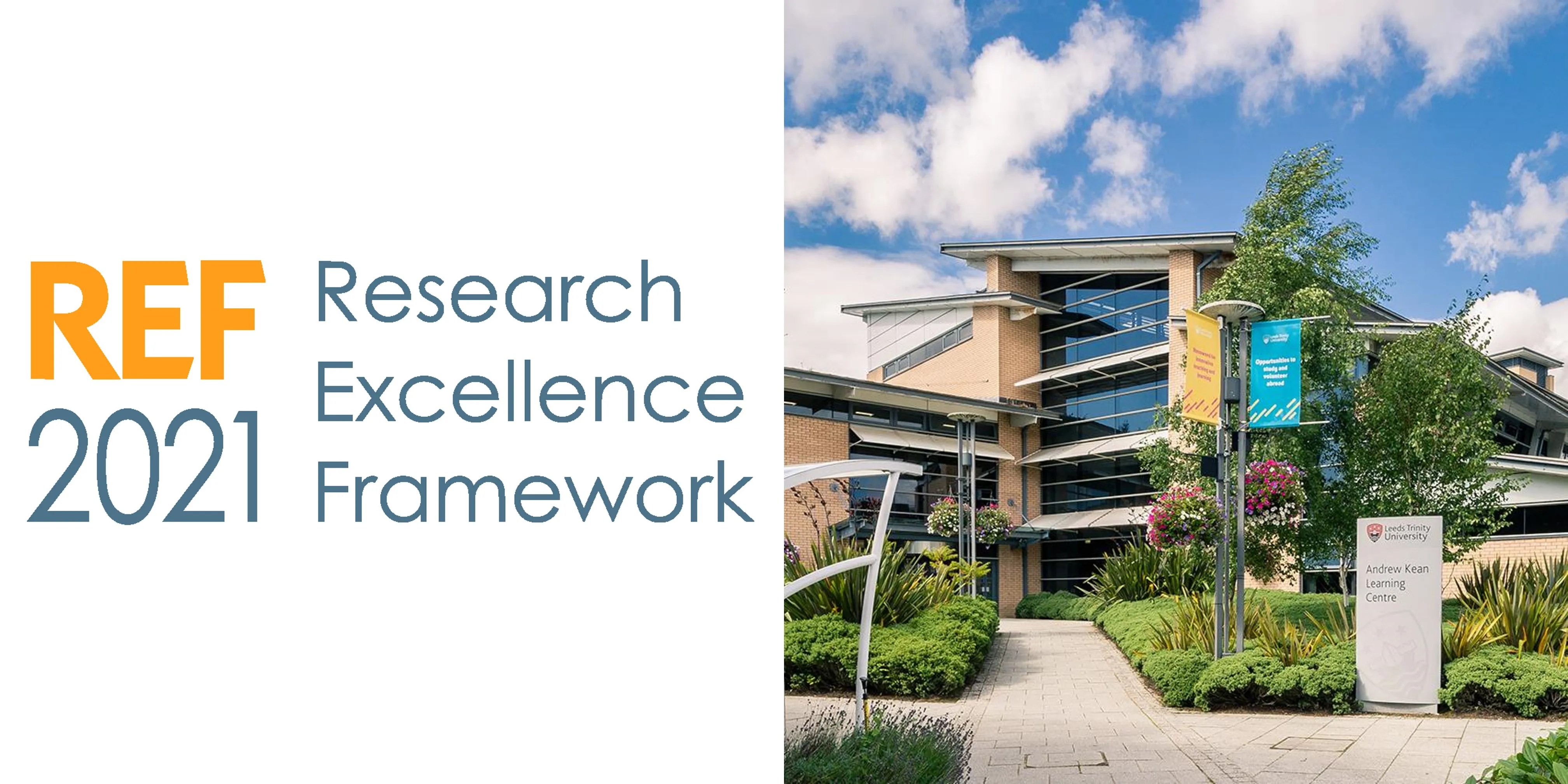 84 per cent of Leeds Trinity's research publications have been identified as being of international quality (4*, 3* and 2*), with 10.9 per cent rated as world-leading (4*).
The University's overall quality profile also demonstrates the real-world impact and benefits its research has delivered, with 67.2 per cent thought to have an impact at 2* and above.
Leeds Trinity submitted to six Units of Assessment (UoA) in REF 2021, one more than its previous REF submission in 2014, reflecting the University's focus on impactful research across the board. Case studies include:
All publications in the Sport and English UoAs were rated as being of international standing, making the University a strong national player in these subject areas.
In line with its Strategic Plan 2021-2026, Leeds Trinity is building a Positive Research Culture that champions a creative and collaborative approach, grounded in its values of dignity and care, respect and inclusivity, solidarity and service.
The University is also working to increase the economic, social and cultural impact of its research activities by contributing to the knowledge-rich economy of the Leeds City Region and the City Region's Economic Strategy – underlining its position as an Anchor institution and commitment to working together to make a positive difference for people across the city.
Professor Malcolm Todd, Deputy Vice-Chancellor at Leeds Trinity University, said: "I am delighted that the REF 2021 results reflect our aspiration to continue strengthening the role of research at Leeds Trinity University. We are extremely proud of the world-leading research status our academics have achieved and of the impact colleagues have made so far, which provides us with a strong foundation for securing Research Degree Awarding Powers in the future.
"As we put the University's Strategic Plan into action, we are investing in our academic structures to drive future growth and provide a substantial boost to strengthening our capacity in Research and Knowledge Exchange. I look forward to building on our progress so far and increasing our contribution to public debate, engagement and collaboration."
Professor Karen Sayer, Interim Institutional Research Lead, added: "Having gained University status in 2012, over the last 10 years Leeds Trinity has built on the rich research culture in place since our 1966 foundation. Our University staff have extensive experience in their fields, and as well-respected researchers continue to contribute to our reputation for excellence in applied research and a research-led culture that enhances our students' learning experience.
"I am extremely proud of the progress we have made and the platform today's REF results have established for the future. As we move forward, our research will be inclusive, diverse, supportive, open, and aligned to the highest standards of research integrity. The case studies we have shared, which were submitted to REF 2021, are excellent examples of this."
'Research, Impact and Innovation' is one of the four key pillars of Leeds Trinity's Strategic Plan.
The Research Excellence Framework (REF) is the UK's system for assessing the quality of research in UK higher education institutions. The REF is undertaken by the four UK higher education funding bodies: Research England, the Scottish Funding Council (SFC), the Higher Education Funding Council for Wales (HEFCW), and the Department for the Economy, Northern Ireland (DfE). The funding bodies aim to secure the continuation of a world-class, dynamic and responsive research base across the full academic spectrum within UK higher education.
For more information about Leeds Trinity University's approach to research, visit the website.