Students and staff at Leeds Trinity University are taking part in online workshops which aim to help Ukrainian police cadets develop their English language skills and gain an understanding of Western customs.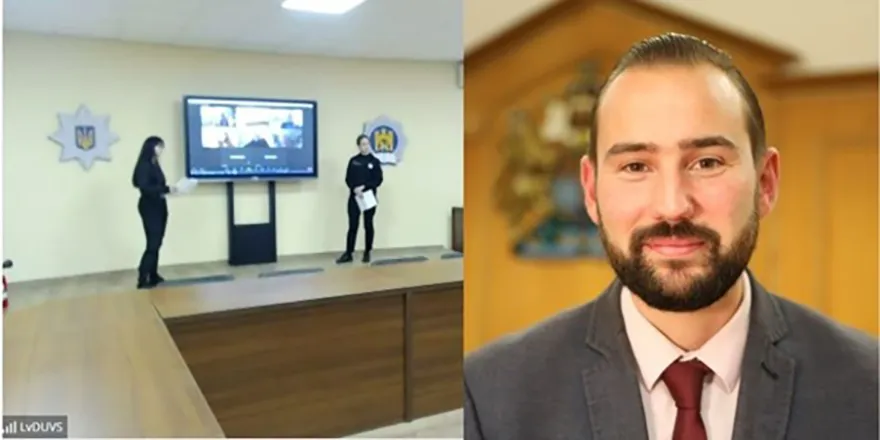 The Ethical Support Alliance has brought together former and current serving officers, academics and industry specialists to create a unique ethics and standards-based education programme for second-year students studying a policing degree at the Lviv State University of Internal Affairs in Ukraine (LvSUIA), working in cooperation with the institute's English language department.
The objective was to help Ukrainian cadets, who study at the Lviv State University of Internal Affairs and who also delivered talks of their own during the session, develop their English-speaking abilities and gain an understanding of best practices used in the UK.
The work is being done ahead of the preparations towards the rebuild of Ukraine post-conflict. It is anticipated that there will be an inrush of English-speaking helpers to the country when that time does arrive, as efforts to rebuild the war-torn nation begin.
Leeds Trinity has been introduced to the initiative by Jonathan Jackson, who joined the University as Associate Professor in Policing in early October. He acts as Academic Director for the Ethical Support Alliance, which works with international organisations to develop sustainability, and has used his move to West Yorkshire as an opportunity to widen its reach. Further workshops have been planned for the months ahead.
Jonathan Jackson, Associate Professor in Policing, said: "I am really pleased to have been able to share this unique project with Leeds Trinity University. The chance to share language, culture and policing knowledge was incredible and I would like to extend my thanks to all students and volunteers who made the most recent workshop such a success."
David Lewis, Director of the Ethical Support Alliance, said: "I have done a lot of work to provide support to Ukraine during the current conflict; it is important to inspire hope and remind those who are caught up in it that there is a world outside of war. It is brilliant to have students and volunteers from Leeds Trinity University involved in these efforts, and I am sure that the knowledge and information they share in the workshops will help the cadets as they pursue their ambitions and look towards the future."
Work is also underway to establish future collaboration opportunities between Leeds Trinity University and Lviv State University of Internal Affairs, to provide unique opportunities for students who are studying both within the School of Criminology, Investigation and Policing and across the university.
For more information on the School of Criminology, Investigation and Policing at Leeds Trinity University, visit the website.
Leeds Trinity University's Corporate Communications team is the first point of contact for local, national and international media. Looking to source a comment or would like to arrange an interview with one of our academic experts? Contact the team on +44 (0) 113 283 7100 or communications@leedstrinity.ac.uk
More about the Press Office