A Leeds Trinity University graduate has been shortlisted for a prestigious National Council for the Training of Journalists (NCTJ) award.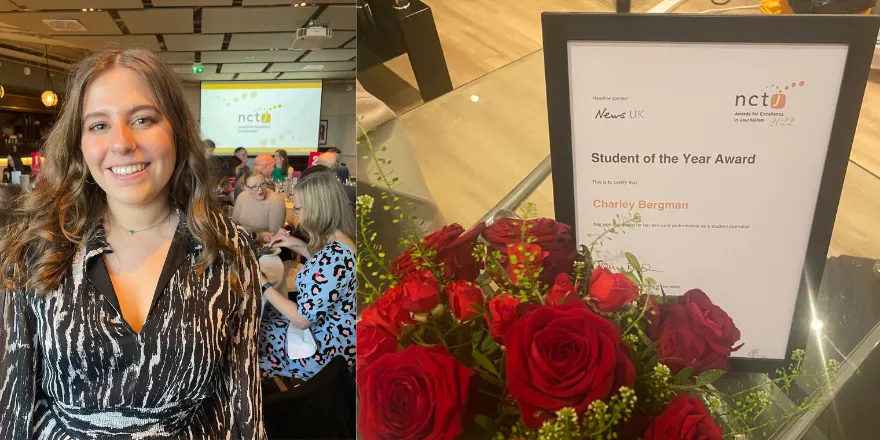 Charley Bergman, who completed her MA in Journalism at Leeds Trinity last year, has been nominated for the Student of the Year Award at the NCTJ Awards for Excellence 2022.
The NCTJ Awards for Excellence recognise and reward the best journalism students, apprentices and trainees, highlighting the achievements of individuals with promising journalism careers ahead of them.
Charley, who now works for ITV Calendar, is one of just five candidates to be shortlisted for the Student of the Year Award, which is made up of the best-performing candidates from across the country who achieved the highest results in their NCTJ Diploma in Journalism in 2022.
During her time at Leeds Trinity, Charley secured work experience at The Sun and gained a full-time role at Newsquest before moving to ITV Calendar in August.
She said: "I feel so proud to have been nominated for the NCTJ award. I was not expecting it at all and I can't believe how much I have accomplished in the past year.
"I wouldn't have been able to do any of it without the support and guidance of the lecturers at Leeds Trinity University – the MA course totally prepares you for a future career in journalism, from the teaching to the extra-curricular work experience they help you find. Now I'm working in my dream job all thanks to the Journalism MA."
Katherine Blair, Associate Professor (Professional Practice) and Programme Lead for Broadcast Journalism at Leeds Trinity University, said: "Charley was one of the shining stars of a very glittering MA Journalism cohort graduating in December 2022. Tenacious, creative, hard-working and determined, with the biggest of personalities, she was a delight to have in the classroom.
"Charley co-produced the international TV news programme, Global News Relay: Mind Matters, in April 2022, co-ordinating student journalists and presenters from eight universities in five countries, spanning 15 time zones. Not surprisingly she quickly secured a job at ITV Calendar.
"Charley will forever be one of those students you remember because of how engaged, gifted and fun she is. I've no doubt her professional rise will be meteoric."
Charley joins a host of successful Journalism alumni from Leeds Trinity University that have gone onto incredible achievements.
Last year, MA Journalism graduate Noa Hoffman, who works as a Political Reporter at The Sun, won Young Journalist of the Year at the London Press Club Awards. Lauren Layfield, who graduated from Leeds Trinity with a degree in Broadcast Journalism in 2010, was also nominated for a 2022 International Emmy Award.
The winner of the Student of the Year Award will be announced at the NCTJ Awards for Excellence 2022 ceremony on Thursday 2 March.
Find out more about Journalism courses at Leeds Trinity University on the website.