All our University Led PGCE courses lead to Qualified Teacher Status (QTS) and the award of a level 7 Postgraduate Certificate in Education.
You'll be trained by experts in subject and age phase pedagogy, who are at the cutting edge of educational research and policy.
Our specialist placement team will take into account your specific circumstances to place you in schools from our extensive partnership.
You'll be supported in school by fully trained mentors and take part in a range of experiences provided by the university to enrich the curriculum, drawing upon the partnerships we have from across the education sector.
Sign up to our PGCE Open Day
Take the next step by booking your place on our PGCE Open Day on Saturday 10 February 2024.
Book your place
Why choose to train at Leeds Trinity University?
We were founded as a teacher training college in 1966. Over the years, we've diversified and expanded, but an unwavering commitment to providing outstanding teacher training has remained at the very heart of Leeds Trinity.
This has led to us developing a reputation as one of the UK's most respected teacher training providers, based on a distinctive approach to teacher training that sets us apart.
If you start a PGCE in September 2023, you may be entitled to financial support from the Department for Education. The amount of support depends on the subject you wish to teach and your highest relevant academic award.
Outstanding teachers are passionate, hardworking, knowledgeable and confident. While some of this is innate, we understand that it takes time to develop the knowledge and confidence to be an outstanding teacher.
So rather than throwing you in at the deep end, we structure our programme in a way that gives you the time to gradually develop your confidence and experience.
We'll train you in stages, gradually building your confidence and capability with a mix of research-informed practice, school-based training and plenty of one-to-one support. You'll be in school for one day a week from the third week of your course and for at least four days a week from early October.
This structure borrows the best of University-led and school-led teaching training routes, creating a very effective hybrid structure that will get your teaching career off to a flying start.
We understand that no two students are the same, which is why we also take a flexible approach to teacher training. Whether you're progressing on to a PGCE straight after an undergraduate degree, you're changing careers or you're returning to education after a long time away, our flexible approach to teacher training will ensure you receive the support you need to thrive.
Each student is appointed an individual personal tutor who will work with you throughout the programme to support your academic and school-based progress. You will also have a school-based mentor to review and support your professional skills, as well as working alongside a range of colleagues in the school environment. Secondary trainees will also receive subject-specific support which will enable them to teach at all levels of GCSE and into A level, if desired
Another essential quality of an outstanding teacher is the ability to manage workloads. We'll prepare you for this by providing you with a toolkit of methods that will help you plan and assess efficiently from day one.
Thanks to the reputation we've developed for the quality of our teacher training, we've developed high-quality partnerships with hundreds of schools. We work with a diverse range of schools – from small rural schools to large, inner-city high schools where you will work as part of a
multi-professional team.
We recognise that schools in the Yorkshire and the Humber region have specific areas of strength and challenges. We work with 'Outstanding' schools who are leading innovations in education, as well as schools that may have large intakes of vulnerable groups of children or who may have difficulties in reaching outcome targets at the end of key stages. When you train with Leeds Trinity, you will benefit from seeing best practice in school improvement, whichever school you train in.
Leeds Trinity University was founded in 1966 as two Catholic teacher training colleges. Over the last 50 years, we have evolved and developed to become an acclaimed university with a diverse education offer, but our Catholic faith foundation remains key to our activities.
We work in close partnership with a number of Catholic schools to offer placement opportunities for our PGCE trainees, and you'll also have the chance to study for a Catholic Certificate in Religious Studies as part of your PGCE.
Teaching isn't a one-size-fits-all approach. Every subject and age range is different, which is why we make sure our training and support is centred on subject and age-specific knowledge and teaching practices.
We've got a high-quality team of primary and secondary subject expert tutors, each of whom is an experienced teacher as well as a leader in each of their subjects. Many of them have written textbooks, worked with examination boards in developing specifications or with organisations such as the BBC, governments, Multi-Academy Trusts and other educational organisations.
As a university, we're extremely proud of our reputation for outstanding student support – in and out of the classroom.
Whether you're learning on campus or you're in a school full-time, you'll be able to access our range of support services which include academic skills support from our Learning Hub, 24/7 counselling service, help with student finance, support with your school-based training from our School Partnerships Office and much more.
Where you choose to train has a long-term impact on your teaching career.
We offer excellent support for teachers in the early stages of their career, and have a very strong Early Career Teacher (ECT) programme, with CPD, an active online community and an annual conference.
Our PGCEs also have credits towards a Master's in Education, which you can study at a discounted rate as a Leeds Trinity graduate. This is something which has helped many of our alumni in improving their impact on local schools and in their own career development.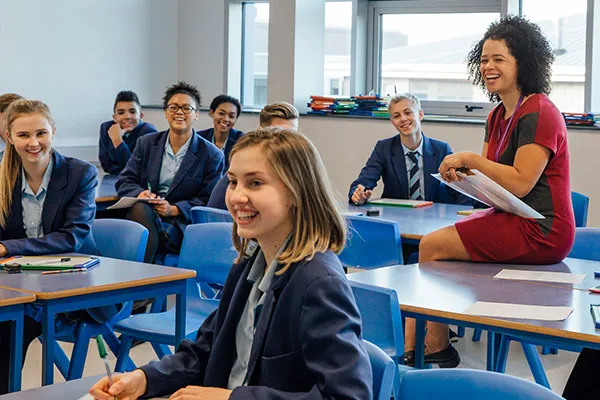 PGCE
Order your prospectus
Get a copy of our prospectus for everything you need to know about Leeds Trinity University.
Order your prospectus
PGCE
Visit us at an Open Day
Join us on campus to discover for yourself what it's like to study with us.
Book your Open Day
PGCE
Apply
Learn more about how to apply to study with us.
How to apply