Professor Leigh Hoath, Deputy Dean of the School of Education at Leeds Trinity University was part of a panel discussion at the Climate Change and Understanding and Navigating Net Zero event.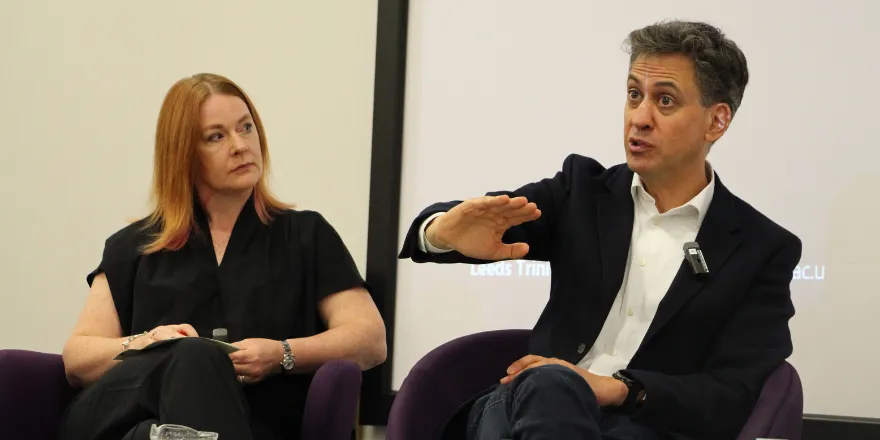 The session took place at Leeds Trinity's main campus in Horsforth yesterday (Thursday 28 September). The panel, which also included Rt Hon Ed Miliband MP, Shadow Secretary of State for Energy Security and Net Zero, discussed climate change, education, and answered questions from the audience.
Professor Hoath is the co-founder of an alliance leading curriculum development concerning climate change education, Climate Adapted Pathways for Education (CAPE). She is the Co-Chair of the Association for Science Education (ASE) as well as being a regular contributor to their conferences and publications.
Leigh has worked in higher education for almost two decades following a successful teaching career in science education. She is an author of science books across the primary and secondary age phases as well as the outreach and engagement consultant to the world's largest chemical company (BASF).
Leigh is a regular consultant to BBC Teach where she developed the 'Blue Planet Live' teacher resources and live lesson and created the content for their climate and sustainability focussed campaign 'The Regenerators'.
Yesterday's event was organised by local campaigner Katie White OBE who grew up in Leeds and received an OBE for her services to tackling climate change. She invited academics Professor Hoath from Leeds Trinity University and Professor Francesca Gains from the University of Manchester, Rt Hon Ed Miliband MP (who went to school in Horsforth in his early childhood) and the local community to meet to discuss climate issues.
The event was also documented by Leeds Trinity's Journalism and Media students, providing them with an opportunity to film the event and interview panel guests including Rt Hon Ed Miliband MP.
Professor Leigh Hoath, Deputy Dean of the School of Education at Leeds Trinity University said: "As one of the largest providers of initial teacher education, Leeds Trinity University is proud to support our students in developing knowledge and understanding around embedding climate change education into the curriculum and preparing our teachers of the future.
"Our partnership with Climate Adapted Pathways for Education (CAPE), which drives climate change education leadership in England, reflects our ongoing commitment to the agenda."Rt Hon Ed Miliband MP, Shadow Secretary of State for Energy Security and Net Zero said: "I was delighted to speak at the Leeds Climate event to talk about Labour's plan to make Britain a clean energy superpower, which will cut bills, give us energy security, create a million jobs and help tackle the climate crisis.
"The party's plans will provide huge new opportunities for communities across the country, from insulating homes to creating the community energy projects we need to reach net zero.
"Katie White has relentlessly campaigned to tackle climate change throughout her adult life, and I was delighted to accept her invitation to come to her home city of Leeds and join her along with Professor Hoath and Professor Gains for this vital discussion.
"I'd like to thank Leeds Trinity University for their hard work in hosting the event which was a resounding success. I would also thank all who came along for their insightful questions and determination to work towards us achieving net zero together."
Leeds Trinity's Vice-Chancellor (Professor Charles Egbu) and the Chair of the Board at Leeds Trinity (Jamie Hanley) welcomed the panellist and delegates to the University's Horsforth campus for the event.
Professor Charles Egbu, Vice-Chancellor at Leeds Trinity University said: "It was a pleasure to welcome Rt Hon Ed Miliband MP to our Horsforth campus and I am proud of Professor Leigh Hoath's contribution to the panel. Earlier this year we became a partner of the Climate Adapted Pathways for Education alliance alongside other expert educators, researchers and organisations from around the UK.  Our participation was spearheaded by Professor Hoath thanks to her knowledge and expertise in this field.
"In 2021 as part of our strategic plan the University set some ambitious goals for our future. We have committed to tackling our carbon emissions and to align our activities and curriculum to contributing towards the United Nations Sustainable Development Goals. Through the appointment of a new Director of Sustainability role, we are also developing an ambitious sustainability strategy to help us achieve our aims.
"We want to ensure all our degree courses will include education for sustainable development and we are in the process of developing and embedding a Curriculum for Social Justice Framework to help us do that. We also want our students to tackle challenges that link to the issues critical to our planet and society and I'm pleased that many of our students were able to attend the event."
For more information about Leeds Trinity's strategic plan, mission and values, visit the University website or, to read Professor Leigh Hoath's profile and learn more about her work around the environment and sustainability, click here.
Leeds Trinity University's Corporate Communications team is the first point of contact for local, national and international media. Looking to source a comment or would like to arrange an interview with one of our academic experts? Contact the team on +44 (0) 113 283 7100 or communications@leedstrinity.ac.uk
More about the Press Office